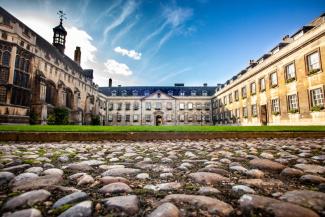 Higher Education Employees and Retirement Readiness
For those that work in higher education as a faculty member or staff, there is a real joy in helping students. But retirement for these hard-working higher education professionals will eventually come, and you want to be prepared. Higher education professionals are not in a rush to leave the workforce, according to a 2014 TIAA survey, with almost 2/3rds of faculty and staff plan to retire at age 65 and older, which is higher than the workforce in general.1
Affording Retirement
Not all of us can afford to retire. Money is a key reason why many faculty and staff members keep working. It is hard to accept a big pay cut! Also, some of us just did not plan ahead financially. I know there are those who have everything figured out, but the rest of us "normal" folks have not.
Being Prepared Emotionally
Not all of us are prepared emotionally for retirement. Some faculty and staff members aren't ready to give up the great benefits of academic employment — our identity as a scholar, our respected role within our unit, the university, and society at large.2 We like having a place to go to every day, a place to attend lectures and social gatherings. The sense of community is important to faculty and staff members.
The Good News
According to the TIAA survey, college and university employees are significantly likelier than other U.S. workers, in general, to have met with a financial adviser (36 percent versus 22 percent, respectively) and to have saved for retirement in an IRA, 42 percent versus 34 percent. Faculty and staff are working on saving and being prepared for retirement; which is good news for retirement readiness.3
There are Plenty of Retirement Plans
The abundance of colleges and universities sponsored retirement plans to help to provide retirement income security for their employees—faculty, administration, and staff members is common. Both defined benefit (DB) plans, a pension, and defined contribution (DC) plans, like a 401k, are common in higher education.4
Besides the pension, the most common retirement plan types for higher education employees are 403(b) among public and private institutions and 457(b) plans in public universities. We have 94% of institutions offering two or more types of plans in higher education. You can typically get a more generous match from your university than you can get in the private sector. You can also defer in 2020 up to $19,500 per year, and $6,500 if age 50 or older. The bad news is that most faculty and staff do not take full advantage of this opportunity of saving more than their employer match. Putting up to the maximum amount into your 403(b) or 457(b) plans on a tax-deferred basis can represent significant tax savings over your lifetime.
According to the TIAA survey, the good news is that 88% percent of the full-time higher education workforce is currently saving for retirement. Most higher education employees who have saved for retirement are focused on generating a certain level of retirement income (57%) as opposed to accumulating a certain amount of money (32%). Faculty and staff appear to be using Goal-Based Financial Planning in their approach to retirement.
What can be done differently?
For higher education faculty and staff, the top two choices of what respondents would have done differently saving for retirement are: starting to save for retirement sooner (45%) and saved more of their salary for retirement (35%). Faculty and staff recognize that financial readiness is the most important factor in determining when to retire at 52%.5
My Own Assessment
Being a faculty member for almost 20 years, I've observed many of these issues noted above. But overall, there is a lot of preparation needed for faculty and staff to have successful retirements. There are generous retirement matches from colleges, there are many options for plan choices, and there is a willingness to meet with a financial advisor to map out an appropriate course of action to achieve a successful retirement. But faculty and staff regret that they have not saved sooner for retirement, which puts them in a more difficult choice of when to retire from the job they love and get fulfillment. It is wise to speak to a financial advisor to make sure you match your goals for retirement as early as possible to fully enjoy retired life.

1. https://www.tiaainstitute.org/publication/retirement-plans-policies-and-practices-higher
2. https://www.chronicle.com/article/A-Professor-s-Last-Crucial/243523
3. https://www.tiaa.org/public/about-tiaa/news-press/press-releases/pressrelease543.html
4. https://www.cupahr.org/blog/survey-findings-higher-ed-rethinking-its-approach-to-retirement-plan-offerings/
5. https://www.tiaainstitute.org/publication/retirement-plans-policies-and-practices-higher
*This content is developed from sources believed to be providing accurate information. The information provided is not written or intended as tax or legal advice and may not be relied on for purposes of avoiding any Federal tax penalties. Individuals are encouraged to seek advice from their own tax or legal counsel. Individuals involved in the estate planning process should work with an estate planning team, including their own personal legal or tax counsel. Neither the information presented nor any opinion expressed constitutes a representation by us of a specific investment or the purchase or sale of any securities. Asset allocation and diversification do not ensure a profit or protect against loss in declining markets.