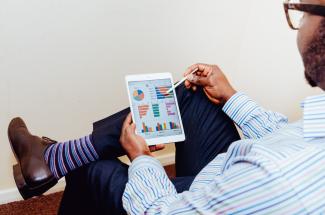 Financial Planner As Your Accountability Partner?
Surveys Says
If you manage your own money, you are like most other Americans, according to the 2019 CNBC Invest national public opinion survey. Only 1% of those polled said they use a financial advisor.1
The remaining 99% of those surveyed said they either do it themselves (76%); have their spouse, parent or someone other than a financial advisor handle it for them.
Reasons Why?
There are several reasons people are staying away from getting professional financial advice.1
1. There is a lot more information online these days, compared to past generations, so people feel like they can do it themselves. These sources range from self-help books to blogs, podcasts, and popular TV shows.
2. Younger Americans are also straddled with more debt, like student loans, so they don't have a lot to invest.
3. The cost can be prohibitively expensive. Some financial advisors don't take on clients if they don't meet certain asset levels.
4. Most important, people simply don't understand the different functions a Financial Planner can provide.
How Can Financial Planners Help You (My Top 10)?
1. Financial Planner can reduce emotional decisions.2 If you have a Financial Planner assisting you with your financial decisions, they will be able to help you keep an emotional distance from your money so that you can make the best long-term plan for your money.
2. Financial Planners can help with big life changes. If you are suddenly facing a new or drastic change to your finances, like receiving a large inheritance, or starting a new job, or having a baby, that you aren't sure how to handle, a Financial Planner can help decide what to do with your finances.
3. Financial Planners can remind you to take care of yourself first.3 Remember what the flight crew says during their safety demonstration: Put on your own oxygen mask first. Your accountability partner, your Financial Planner, is there to remind you of what to do first.
4. Financial Planners can help with unforeseen circumstances. Did we lose a job or something unexpected happened in your life? Do we know what life insurance can help to protect your loved ones?
5. Financial Planners can help you create a budget and stick to it.4  A Financial Planner can help you create a budget that accounts for all your expenses while keeping in mind your goals for the future, whether it's buying a new house or retiring early.
6. Financial Planners can help you save taxes. A Financial Planner knows exactly what to look for to help you save money and can even connect you with a CPA for deeper insight and strategies on your taxes.
7. Financial Planners can manage your investments, or give you advice so you can manage them yourself. In addition to providing general financial planning advice, Financial Planners can take control of your investment accounts so you don't have to concern yourself with investment returns and rebalancing. Or they can give you solid guidance so you can do this on your own.
8. Financial Planners can calculate how much you need for retirement. Do you need 1 million, or more, or less for retirement? We can make guesses. How much each month will you need to save to retire comfortably?
9. Financial Planners can review your insurance coverage. Even if you think you're covered from all angles, a Financial Planner will review your policies in the context of your larger financial picture to make sure your coverage is adequate and aligns with your future goals and current expenses.
10. Most importantly Financial Planners can keep you on track for your goals.5 Hold you accountable for results! Make big goals into smaller more manageable to-dos lists. You can also enlist a Financial Planner to see if you're on track to meeting your goals, like retiring at 65, with your current savings rate and investments. Financial achievements can almost always be broken down into more actionable pieces in what I call, Goal-Based Financial Planning.
Goal-Based Financial Planning
The most important function of a financial planner is to help you accomplish your goals. You need someone to be your accountability partner, to be in your corner. All of the self-help books can give you good solid advice, but who's going to help you implement that advice? You need a winning implementation strategy, not just information! Tangible results are what enable you to get your finances to the next level.
Talk to a Financial Planner about Goal-Based Financial Planning to help you accomplish YOUR financial goals.
1. https://www.cnbc.com/2019/11/11/99percent-of-americans-dont-use-a-financial-advisor-heres-why.html
2. https://www.thebalance.com/do-i-need-a-financial-advisor-453656
3. https://www.kiplinger.com/article/retirement/T023-C032-S014-5-ways-financial-adviser-holds-you-accountable.html
4. https://www.businessinsider.com/personal-finance/what-a-financial-planner-does-so-you-dont-have-to
5. https://www.forbes.com/sites/katherynthayer/2017/03/21/how-to-upgrade-your-financial-goals-with-an-accountability-plan/#6d907702528e
*This content is developed from sources believed to be providing accurate information. The information provided is not written or intended as tax or legal advice and may not be relied on for purposes of avoiding any Federal tax penalties. Individuals are encouraged to seek advice from their own tax or legal counsel. Individuals involved in the estate planning process should work with an estate planning team, including their own personal legal or tax counsel. Neither the information presented nor any opinion expressed constitutes a representation by us of a specific investment or the purchase or sale of any securities. Asset allocation and diversification do not ensure a profit or protect against loss in declining markets.