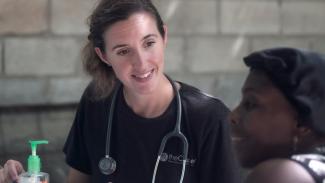 Smart Financial Planning Choices For Nurses
Health care employees, such as nurses, work in a unique environment, with long work shifts and heavy demands on their schedules. In this blog, we discuss five key strategies that nurses can use to more effectively take control of their personal finances.
Fidelity Investments in a 2015 survey of nurses and their money found that the majority of nurses (91%) feel confident discussing their own medical issues with a doctor.1 But more than half of nurses surveyed (56%) say they lack confidence in their personal finances. Less than half (41%) of nurses attribute this to the fact they don't have enough time to focus on their personal finances.
Despite, the lack of financial confidence and time, the study suggests many nurses are taking positive steps with their money. Nurses are diligent savers with a total savings rate (employer plus employee contribution to a workplace savings plan) of 12 percent, which is very close to 15 percent which is a recommended savings rate for retirement.
There are 5 key strategies that nurses can use to more effectively take control of their personal finances.
1. Set Goals
It is very important to set goals on what you want to accomplish in your personal finances. For instance, you might want to save for a new home or car. You may want to pay off your student loans or credit card debt. Having a solid financial plan will enable you to allocate your money to achieve your financial dreams. If you don't have enough time, hire a financial planner to help you organize your finances.
2. Set up an Emergency Fund
Financial planners often recommend that you set aside enough money for emergencies. This is called an emergency fund. The ideal goal is to save 3-6 months of living expenses in case of a loss of a job or some unforeseen financial circumstance. You don't want to rack up credit card debt when you can pay in cash for an expensive car repair or broken air conditioner. These large unforeseen expenses can derail your ability to reach your goals.
3. Think about Retirement
One of the most important recommendations for nurses is to save diligently for retirement.2 Saving for retirement early means that you have more years to accumulate a good retirement nest egg. Most nurses have employer-sponsored 401(k) plans at their work that they should take advantage of. Many of these plans offer a company match, which is essentially extra money given to you from your employer that will grow tax-free.
4. Pay off your Debt and Budget
It is very critical to pay off any debt that you have. Paying off debt will give you more freedom with the money that you have to reallocate to your goals. There are numerous good methods to pay off your debt from paying the highest interest rate credit cards first to paying off the smallest balance then moving to the larger balances. An important part of paying off your debt is to work within a budget. Resist putting purchases on your credit cards. Evaluate your purchases and determine if you really need the item. Cancel subscriptions that you do not use. You can often find numerous items that you originally purchased, but do not provide any added value.
5. Talk to a Financial Planner
Nurses should take advantage of talking to a financial planner either at work or hire a fee-only financial planner. A financial planner will be able to look at all of your finances and help you make the best choices to reach your short term and long term goals. A financial planner can help you with your budget, investments, retirement, insurance, taxes, and so forth.
Make time to work on your personal finances! It just takes a little time each day to better organize your finances. Go from feeling confused and disorganized to feeling clear and focused on your financial path.

1. https://www.businesswire.com/news/home/20150505005787/en/More-Than-Half-of-Nurses-Lack-Confidence-in-Making-Financial-Decisions-According-to-Fidelity-Investments%C2%AE-Study
2. https://money.usnews.com/money/blogs/alpha-consumer/2015/05/18/a-financial-check-up-for-nurses
*This content is developed from sources believed to be providing accurate information. The information provided is not written or intended as tax or legal advice and may not be relied on for purposes of avoiding any Federal tax penalties. Individuals are encouraged to seek advice from their own tax or legal counsel. Individuals involved in the estate planning process should work with an estate planning team, including their own personal legal or tax counsel. Neither the information presented nor any opinion expressed constitutes a representation by us of a specific investment or the purchase or sale of any securities. Asset allocation and diversification do not ensure a profit or protect against loss in declining markets.