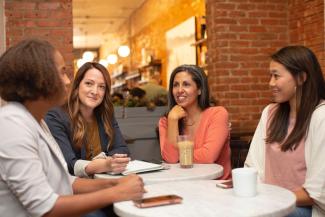 Professional Women Saving for Retirement
As of 2018, women earned 85% of what men make, according to a Pew Research Center analysis.1 This is paired with the fact that women tend to live longer than men and often have to draw down their retirement wealth over a longer period of time. In 2020, the average life expectancy at age 65 is 21.1 years for women and 18.6 years for men.2
Women are more likely to run out of retirement savings, especially because older women are more likely to be the surviving partner, living on less Social Security income and paying off their partner's medical bills.2
The better news is that women over the age of 55 are increasingly remaining in the workforce. With women working longer this gives them more time to save for retirement and reduces the time they need to depend exclusively on retirement savings.
The not so great news is that a recent survey showed that almost one-fifth, or 19%, of working women, have nothing saved for retirement. The survey also found that 14% didn't know how much money they had put away!3 When it comes to race, black working women were less likely than their white women to have nothing in retirement savings — 14% versus 22%. Yet, 24% of black women didn't know how much they had saved, compared to 11% of white women.
What are three things that professional working women can do to get on track to save for retirement?
Max out your 401(k) plan
For professional women in corporate positions, you should have a 401(k) plan through work. In these plans, your employer typically matches your contributions. If so, you should at least contribute up to that amount that your employer contributes. If not, you are leaving cash on the table.
You can save the maximum of $19,500 for 2020, as well as an additional catch-up contribution of $6,500 if you are over age 50. If you don't have a 401(k), open an Individual Retirement Account (IRA) or and start contributing up to the maximum.
What is your retirement goal?
It is very important to figure out how much you need to save to reach your retirement goal. Fidelity, the largest 401(k) provider in the United States rule of thumb is to aim to save at least 1x your salary by age 30, 3x by 40, 6x by 50, 8x by 60, and 10x by 67. They are of course aspirational goals. If you are behind there is still time to catch up with a solid plan going forward.
Getting educated on your finances
Surveys show that women also tend to lack confidence in money. They tend to know less about financial products than men. They are, however, more likely to want to learn more. Women also are more risk-averse and as a result, are less willing to risk money in the stock market. But most of their retirement savings are tied up in 401(k) plans largely composed of riskier equities. Understanding your financial situation will enable you to better maximize your retirement savings.
Ask for help
Be sure to talk to a financial planner to maximize your retirement savings to live your best life. A financial planner will help you chart a manageable path forward to save for retirement.
1. https://www.pewresearch.org/fact-tank/2019/03/22/gender-pay-gap-facts/
2. https://www.brookings.edu/essay/how-does-gender-equality-affect-women-in-retirement/
3. https://www.cnbc.com/2020/03/05/nearly-1-in-5-working-women-have-nothing-saved-for-retirement.html
*This content is developed from sources believed to be providing accurate information. The information provided is not written or intended as tax or legal advice and may not be relied on for purposes of avoiding any Federal tax penalties. Individuals are encouraged to seek advice from their own tax or legal counsel. Individuals involved in the estate planning process should work with an estate planning team, including their own personal legal or tax counsel. Neither the information presented nor any opinion expressed constitutes a representation by us of a specific investment or the purchase or sale of any securities. Asset allocation and diversification do not ensure a profit or protect against loss in declining markets.