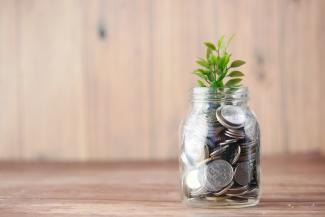 The Only Four Funds You Will Ever Need
Typically, investing is not made simple by the industry. Pundits talk about how they have the next great investment—the cure-all for your investment woes. There is no lack of commentary on what you should have in your investment portfolio and your willingness to take on unnecessary risk for a promised return.
However, most academic research shows that investing can be boiled down to four funds in a simple portfolio. You can get all four funds or purchase an all-in-one fund to get portions of the four underlying funds mentioned below.
We know from the research that with the four fund portfolio, you can get diversification, global reach, and returns that mirror the market. Yes, returns that mirror the market. Market returns are what we should aim for, according to the research. If we knew how to beat the market, wouldn't we all be rich!
The four funds are composed of the following:
1) Total Stock Market Index Fund: This is essentially a fund with broad exposure to almost all publically listed stocks. You are buying the entire U.S. market! You get a low cost in the index fund and diversification with this fund.
2) Total International Stock Market Index Fund: This fund tracks the performance of all non-U.S. stock funds. Here along with diversification and low cost, you get global reach.
3) Total Bond Index Fund tracks U.S. fixed income or bonds. The purpose of the bond fund is income and principal protection since they are not as correlated with stocks, so potentially when stocks go down, they should increase in value.
4) Total International Bond Index Fund: The final component of the four fund portfolios is the international bond sleeve. These provide global diversification for your portfolio and potential principal protection and income from international bonds.
These four funds are typically all you need for investing. You would next need to determine your level of risk and time horizon for when you need the money. You can choose your portfolio allocation between the four funds from this information. You can get all four of these funds from major brokerages, and they are readily available at low costs.
But you can make it even easier and purchase a fund-of-funds in which the fund purchases all four of them in different percentages, with an emphasis on U.S. stocks and bonds. Then, knowing that the industry recognizes that investors want simple choices, you can get a target fund or a fund based on your level of risk, such as growth, balanced, and income funds. These funds automatically rebalance and make investing very simple for the average investor.
But the industry does not let you know about this relatively simple way of investing since you might not want someone to manage your money if you knew how simple it is. But be sure to talk to a financial planner to examine your level of risk and timeline for when you need the money to come up with an asset allocation among the four funds. Reach out to me below if you want to learn more about simple ways of investing your money.
*This content is developed from sources believed to be providing accurate information. The information provided is not written or intended as tax or legal advice and may not be relied on for purposes of avoiding any federal tax penalties. Individuals are encouraged to seek advice from their tax or legal counsel. Individuals involved in the estate planning process should work with an estate planning team, including personal legal or tax counsel. Neither the information presented nor any opinion expressed constitutes a representation of a specific investment or the purchase or sale of any securities. Asset allocation and diversification do not ensure a profit or protect against loss in declining markets.