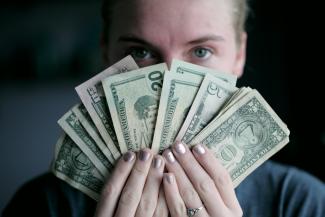 Keep investing simple and get better results in your 401(k) plan
Financial planners often talk about the importance of having a plan when you invest your money. However, research also shows that simple methods of investing tend to outperform more complicated investing techniques. Most of this is explained by the inability of us "humans" to take the emotions out of investing. Trying to buy investments that are overvalued and ignoring ones that are undervalued is a common bias. Having a fear of missing out on the next big investment trend is inherently human.
However, recent research by Morningstar showed that, on average, over a 10 year period, there was about 1.7 percentage points less performance than total market returns of buying and holding.1 This costs investors nearly one-sixth the return they would have earned if they had bought and held. The rationale for this difference is that markets tend to go up much more often than down, typically setting daily records. Thus, trying to time an entry point, you might miss out on long periods of sustained positive returns.
This does not bold well for traditional dollar-cost averaging. This is where investors invest a smaller amount, perhaps every month. We typically see this with corporate 401(k) plans. With dollar-cost averaging, you are buying more equities shares when they are down in price and less when they are higher priced. But the research shows that equities are achieving higher and higher records, so this method might not be as good as just investing a lump sum. On a more positive note, dollar-cost averaging can help investors avoid the negative effects of poorly timed cash flows by enforcing a more disciplined approach to investing. Despite this, for many novice investors, this dollar-cost averaging is the better option.
 
Morningstar presents some simple ways of investing that may mitigate some of the poorer performance.1 The study's results suggest:
1. Keep things simple and stick with plain-vanilla, such as broadly diversified low-cost ETFs.
2. Automate routine tasks such as setting asset-allocation targets and periodically rebalancing perhaps once a year.
3. Avoid over-exposure to narrowly focused funds, as well as those with higher volatility.
4. Embrace techniques that put investment decisions on autopilot, such as dollar-cost averaging.
This Morningstar report supports my favorite way of investing in asset allocation funds, such as target-date funds.  Allocation funds had much narrower performance gaps and can help investors to be more successful. But be aware that not all target-date funds in 401(k) plans are the same. In addition, some of these funds have very high fees that you should be mindful of.
The bottom line of this important Morningstar research is that keeping it simple and either buy and holding and/or dollar cost average seems to get 1.7% greater returns than investors with more complicated trading techniques that try to time the market. In addition, target-date funds, which are popular in 401(k) plans, are a great way to both dollar cost average and buy and hold. If you want to reach out and learn more about asset allocation strategies, contact me below.
1. https://www.morningstar.com/articles/1056151/why-fund-returns-are-lower-than-you-might-think
*This content is developed from sources believed to be providing accurate information. The information provided is not written or intended as tax or legal advice and may not be relied on for purposes of avoiding any federal tax penalties. Individuals are encouraged to seek advice from their own tax or legal counsel. Individuals involved in the estate planning process should work with an estate planning team, including personal legal or tax counsel. Neither the information presented nor any opinion expressed constitutes a representation of a specific investment or the purchase or sale of any securities. Asset allocation and diversification do not ensure a profit or protect against loss in declining markets.