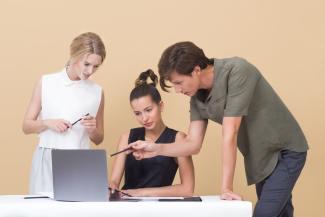 Corporate Employees, Financial Wellness, and Financial Planning
The employee benefits for professionals in corporate careers can be generous. Increasingly, most large corporate employers' focus is to provide some level of financial wellness for their employees. Financial wellness is defined as the overall financial health of the individual.
Improved financial wellness leads to greater productivity in the workplace. Employers are smart to want to tackle financial wellness. Employees should take advantage of financial wellness programs in their workplace. Financial wellness issues ranging from how employees feel about saving for retirement, budgeting, insurance, and debt management.
A recent 2000 TIAA Retirement Insights Survey of over 1000 plan employees and over 500 employers found some interesting findings regarding corporate employees' financial wellness. The insights from this survey show that saving for retirement is ranked most important for corporate employees. The second most important goal is income protection through life insurance. While the third was saving for long-term goals other than retirement.
Regarding some of the gaps of corporate employers, it lacks focus on debt management and debt counseling, student loan assistance, and improving consumer credit counseling. Most corporate employers want to emphasize retirement and employee benefits overall, but broader issues such as learning more about debt management are under-addressed but clearly need attention.
There is a generational difference as well. Younger employees are very concerned (43%) about saving enough for retirement, while mid-career less so. And the lack of financial education in the workplace is a major issue for saving for retirement, according to Generation Y.  In terms of concerns, employees and employers are in sync about the risk of not saving enough and outliving one's retirement savings with roughly 6 in 10 of both groups view these issues as a concern.
Survey after survey shows that employees' financial goals are saving for retirement, paying off debts, saving for children's child education, building an emergency fund, and better-controlling spending. Besides retirement, these other issues are not adequately addressed in most corporate jobs!
This is where a financial planner provides financial education and improves other personal finance areas that are not being covered in corporate jobs. Talk to a financial planner today to learn how to maximize your financial wellness.
*This content is developed from sources believed to be providing accurate information. The information provided is not written or intended as tax or legal advice and may not be relied on for purposes of avoiding any Federal tax penalties. Individuals are encouraged to seek advice from their own tax or legal counsel. Individuals involved in the estate planning process should work with an estate planning team, including their own personal legal or tax counsel. Neither the information presented nor any opinion expressed constitutes a representation by us of a specific investment or the purchase or sale of any securities. Asset allocation and diversification do not ensure a profit or protect against loss in declining markets.