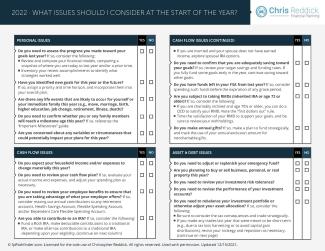 Begin 2022 on the right foot! Checklist
The beginning of a new year is the perfect time to think about the various factors influencing your finances and planning.
For example, you can:
Take a look at your progress toward your goals and consider any new goals you've set for yourself.
Evaluate your insurance coverages to make sure your risks are minimized.
Revisit your assets and debt and evaluate whether your risk tolerance continues to be appropriate.
Take a look at the checklist. What Issues Should I Consider At The Start Of The Year?
In addition to the ideas above, you can get organized for tax season to have a smooth experience. There are many reasons why solid financial planning can set you up for success later.
Sometimes the incremental changes that occur year-to-year may not seem like a big deal. In reality, though, they can add up. The planning you do now can evolve to protect and strengthen you moving forward.
If the checklist I've included has helped you identify topics you should plan for, please get in touch with me to schedule a time to discuss them further. I welcome the opportunity to have this conversation with you!
*This content is developed from sources believed to be providing accurate information. The information provided is not written or intended as tax or legal advice and may not be relied on to avoid federal tax penalties. Individuals are encouraged to seek advice from their tax or legal counsel. Individuals involved in the estate planning process should work with an estate planning team, including personal legal or tax counsel. Neither the information presented nor any opinion expressed constitutes a representation of a specific investment or the purchase or sale of any securities. Asset allocation and diversification do not ensure a profit or protect against loss in declining markets.