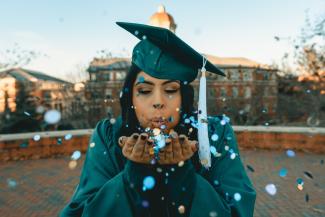 What is the Real Cost of Attending College?
It might be shocking to many parents with children that are college-bound the differences in the cost of attending college. However, what you see on the website of the cost of attending your favorite college, may not be even close to what you actually pay. This relates to the real cost of paying for a college education.
Need Versus Merit-Based Financial Aid
Colleges essentially have two types of financial aid. The most commonly heard about is need-based financial aid. This will typically go to college-bound students from lower-income backgrounds, where without need-based aid, it would not be affordable for them to attend.
The federal government and the school think that your family can only afford so much. Therefore, the federal government offers three main types of need-based financial aid, Pell Grants, Work-Study, and Subsidized direct student loans. The schools also offer need-based financial aid in the form of scholarships and grants. Need-based financial aid is determined by filling out the FAFSA or the Free Application for Federal Student Aid. The information in the FAFSA is used to determine your Expected Family Contribution, which factors in your financial aid award amount.
If you don't qualify for need-based financial aid, you might qualify for merit-based financial aid. In this, it does not consider your family's income but looks at talents such as music, community service, athletics, and so forth. This was developed many years ago to attract college-bound students to go to lower-tier universities.
Essentially, when viewing the college website price of tuition, a parent would get a sticker shock. To make the school more attractive, what is typically offered are discounts for incoming students. View it as a percent off the advertised price. This way, parents are happy since they feel they are getting greater value. The school is lowering the price since the college thinks that your child can add value through the unique skills or talents they bring to the community. It also assumes that many people will not pay the full sticker price. For instance, a recent study of discounting college education showed the undergraduates attending 361 colleges private and nonprofit colleges the average discount was a whopping 53.9% in 2020-21!1
Key Takeaways
There are two key takeaways from this blog. First, all families, regardless of income, should fill out the FAFSA. Even if you don't think you qualify for merit-based financial aid, you may qualify for school-specific financial aid. Second, what you see on the college website, especially for private universities, is not the typical price you pay because of merit-based financial aid. Schools can offer deep discounts to entice you to attend their college, sometimes half off the sticker price. It would be best to talk to a financial planner to learn more about the real cost of attending college.

1. https://www.insidehighered.com/news/2021/05/20/private-colleges-cut-539-tuition-sticker-price-freshmen-average
*This content is developed from sources believed to be providing accurate information. The information provided is not written or intended as tax or legal advice and may not be relied on to avoid any Federal tax penalties. Individuals are encouraged to seek advice from their own tax or legal counsel. Individuals involved in the estate planning process should work with an estate planning team, including their own personal legal or tax counsel. Neither the information presented nor any opinion expressed constitutes a representation of a specific investment or the purchase or sale of any securities. Asset allocation and diversification do not ensure a profit or protect against loss in declining markets.