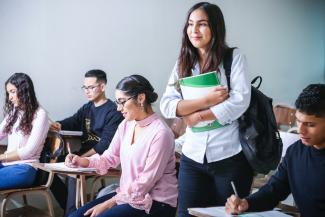 Should you use the Texas College Savings Plan?
I often get the question of whether to use the Texas College Savings Plan. This is the 529 college savings plan where you can go online and enroll in an account to save for college for your children. All states have college savings plans. Most the college savings plans have improved. However, they are different from other brokerage-type accounts because they have a limited assortment of age-based and static portfolios.
Age-based are simple in that they target your child's enrollment in college. So the investments get more conservative as your child approaches college. In comparison, static portfolios don't change with age and can range from conservative to aggressive growth types portfolios.
Investments in 529 plans are similar to the 401(k) plan at work but focus on college savings and the use of after-tax dollars. While a 401(k) plan, you can put in pre-tax dollars. But the earnings from the 529 plans grow tax-free if used for qualified college expenses such as tuition, fees, room, and board.
Since there is no state income tax in Texas, there is no tax deduction for saving in a 529 plan in this state. In addition, I made a comparison with the Utah My 529 plan, which is arguably the best 529 plan in the country. It has a Gold rating, according to Morningstar. This is the plan that I typically recommend, along with many other advisors. But analyzing both the Utah plan and Texas show some critical cost differences.
The Texas and Utah plans offer low-cost passive index funds recommended for college savings plans. Both offer Vanguard and Dimensional Funds which are low-cost and provide excellent investment choices. But the fees or expense ratios for the Texas age-based investments run around .40, while the Utah plan is much lower at .15.
In addition, there are numerous minimum account and investment balances for the Texas plan, while Utah has no minimums. Finally, the maximum funding amount is $25,000 less for the Texas plan. Also, the rankings for the Texas plan are non-existent for the most recent Morningstar 2021 ratings. On the other hand, the Utah plan has been Gold rated since Morningstar started its rankings.
Overall given that the Texas plan is more expensive and not ranked, I would go with the Utah plan. Texas has no state income tax, so the incentive to go with the Texas plan is not great. The Texas plan has improved over the years because of increased competition. I do hope it gets better in the future. But given my focus on passive investments and keeping expenses as low as possible, it is better to focus on low fees since you should get the same market-like returns. Why pay more for the same returns?
If you don't want to go with a highly ranked plan, you could also see what your current brokerage offers. Many brokerages, such as Vanguard and Fidelity, offer 529 plans affiliated with states. Some parents like to keep all of their investments with these providers and not open another account. This is understandable, but make sure you do your due diligence to see what fees they charge and customer service. The benefits of going directly to the state-based 529 plans are that they are focused solely on college savings. But I do understand the logistics of why someone would not want to open another account to save for college when they can use their existing brokerage.
At the end of the day it's essential to have a plan on how much you need to save for college. You can have a perfect college savings plan, but you may not be saving enough to reach your college savings goals or don't know how much college will cost. I think saving for college and being proactive is much more important than the plan you choose to save in. Reach out to me below, and we can figure out how college savings fit into your overall financial goals.
*This content is developed from sources believed to be providing accurate information. The information provided is not written or intended as tax or legal advice and may not be relied on to avoid federal tax penalties. Individuals are encouraged to seek advice from their tax or legal counsel. In addition, individuals involved in the estate planning process should work with an estate planning team, including personal legal or tax counsel. Neither the information presented nor any opinion expressed constitutes a representation of a specific investment or the purchase or sale of any securities. Asset allocation and diversification do not ensure a profit or protect against loss in declining markets.