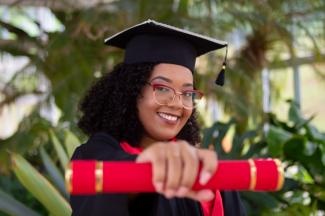 How to Make Smart Choices Paying for a College Education?
Key Takeaways:
-Average full cost of college in 2020 was $26,820 for a four-year public university in-state tuition
-Use the College Scorecard to determine the real price of college and potential earnings by major
Cost of College
Many online sources provide information on the real full cost of attending college. But beyond understanding cost, what are other factors that a parent should consider for a college education, such as potential earnings, graduate rates, and so forth? This blog post provides the real cost of college education and finding reliable sources of information to compare potential colleges to send your child to for the second biggest expense besides your mortgage.
The College Board Publishes Trends in College Pricing is by far the most cited and reliable source to determine how much the real cost of college will be for your child in today's dollars.
In 2020-21, average budgets for full-time undergraduate students ranged from $18,550 for public two-year
in-district students and $26,820 for public four-year in-state students to $43,280 for public four-year  
out-of-state students and $54,880 for private nonprofit four-year students. This is the actual expense, not including any financial aid or scholarships you could potentially get to defer costs.
For instance, if you look at a 4-year in-state on-campus, the average tuition and fees for the year are $10,560, room and board is $11,620, and books and supplies are $1,240, transportation is $1,230, and finally, other expenses is $2,170. This is a sizable amount of money and could bust a family's budget. But, as you can see, room and board are significant expenses second to tuition and fees.
But what is the real cost of attending college? If you go to another authoritative source created during the Obama Administration called the College Scorecard, we can learn more about the true costs of earning potential of the institutions we want our child to attend. The College Scorecard online tool displays five areas: cost, graduation rate, employment rate, average amount borrowed, and loan default rate. This is the go-to source to compare colleges to learn more about the cost and other factors to help student success.
For instance, if you type in the University of Texas at Austin or UT, you learn all about this university. In addition, it provides statistics on the graduation rate of 80%. However, we notice here that the average annual cost of attendance, including tuition, living costs, books and supplies, and fees minus the average grants and scholarships for federal financial aid recipients, is $18,023. This is actually $8,797 less expensive than the full price of attending college noted by the College Board.
Therefore, the message what you see on the college website and read online may not be the true cost of what you will pay for your child's attendance. In addition, other factors go into play for the true cost of colleges, such as merit aid and financial aid packages, which can significantly lower the cost of attendance.
With the College Scorecard, you can also lookup major fields of study and determine the average salary after your child graduates. For example, at UT, we have history majors getting an average salary of $28,598, while chemical engineers make $82,830. What a difference!
I encourage you to look at both the College Board data to figure out how much the maximum you will be paying per year and then check out the College Scorecard to see the potential earnings you will get from the college education and the average price your student will actually pay.
Return on Investment or ROI
As a parent, you have to be serious about whether the Return On Investment or ROI for college for your child is worth the actual price you will pay. So use both of these sources to arm yourself with as much information as possible to make the best choice financially and in your child's best interest. Then, contact me below, and we can discuss the real cost of college for your child and work on strategies on how to pay for college.
An increasing number of studies look at the Return on Investment or ROI of a college education. The ROI is essentially the cost of attendance divided by what you expect to generate in future income or wages.
This is especially important since the average cost of a 4-year public, according to the College Board, with in-state tuition is $10,560 for tuition and fees, while a private nonprofit 4 year was $37,650 in 2020-2021.1 Typically, the cost of college tuition and fees has surpassed the inflation rate.
Parents are especially concerned about the Return on Investment of college education for their children given the high price tag. One interesting measure of ROI is by Payscale, which allows future returns to be compared to the upfront investment. Essentially, Payscale uses the total cost of tuition, fees, room and board, books, and supplies. The return (gain) is the additional expected future income stream received for being a college graduate.2
From this ROI measure for 2020, Payscale has the following Texas public and private colleges in the top 4 ROI. First, Rice University has a 20-year net ROI of $814,000 with financial aid included. Second, we have Texas A&M in College Station with a $636,000 20 year ROI. Finally, rounding out the Top 4 is the University of Texas at Austin and the University of Texas at Dallas, with over a half-million ROI. What is interesting here is the findings are not what we would expect. The University of Texas at Dallas is close to the University of Texas at Austin. One would expect the flagship university of Texas to surpass UTD.
This leads to the difficulty of this broad comparison. The Payscale data does not consider the major the student is enrolled in. For example, an Engineering major should have a higher ROI than an English major. This may be evident in UTD, which has more STEM degree programs, and UT Austin has more liberal arts programs.
In addition, numerous social benefits of higher education go beyond simply getting a bigger paycheck, such as improving the community within the state from a more educated population. Parents don't just send their children to college for a higher paycheck. There are numerous other nonmonetary benefits of higher education, such as developing networks with peers and mentors. Maybe there want to get them out of the house!
Despite these challenges with the Payscale date, it does represent a good attempt for parents to better evaluate the value of college education for their children, given that it will likely be the biggest expense for them outside of a mortgage on their home. It is best to talk to a financial planner to learn more about how a college education fits your financial goals.
1. https://research.collegeboard.org/pdf/trends-college-pricing-student-aid-2020.pdf
2. https://www.payscale.com/college-roi/state/Texas/page/1?aid=true
*This content is developed from sources believed to be providing accurate information. The information provided is not written or intended as tax or legal advice and may not be relied on to avoid any Federal Government tax penalties. Individuals are encouraged to seek advice from their own tax or legal counsel. Individuals involved in the estate planning process should work with an estate planning team, including personal legal or tax counsel. Neither the information presented nor any opinion expressed constitutes a representation of a specific investment or the purchase or sale of any securities. Asset allocation and diversification do not ensure a profit or protect against loss in declining markets.